about the moot
The Willms & Shier Environmental Law Moot is Canada's first and only national moot court competition devoted to environmental law. Its goal is to promote awareness of the growing role of environmental issues in contemporary legal practice and public life, while enhancing law students' written and oral advocacy skills.
The competition takes the form of an appeal before a Canadian court of last resort, bringing together law students, judges, leadings lawyers and legal academics to explore cutting-edge environmental law issues. The inaugural competition case focused on the measure of damages for contaminated land.
The moot is open to all Canadian law schools. Teams consist of two or three students enrolled in a JD/bachelor of laws or equivalent degree program. Each team files a factum for one party. At the oral hearing, teams argue one side of the appeal in their first match and the other side in their second. The playoff and final matches are judged by senior appellate judges. Teams present their factums and oral argument in English.
the championship trophy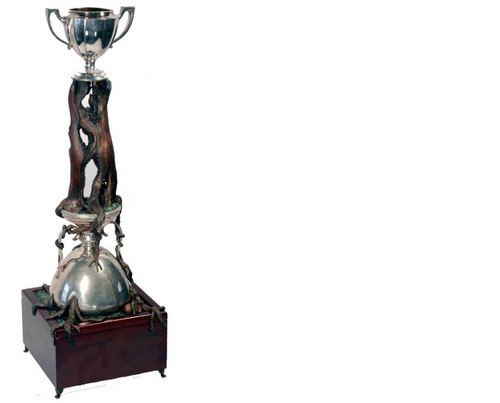 The Willms & Shier Environmental Law Moot Championship Trophy
about the artist

Jamie Brick is a self taught artist. His work has won numerous awards and is in private collections world wide. Found objects are combined with mixed media to create sculptures that are often Ethereal and sometimes whimsical. His work can be viewed at
www.jamiebrick.com
or on Facebook at jamiebrickstudio.
moot committee

FOUNDERS & CO-CHAIRS

Marc McAree
Partner, Certified Environmental Law Specialist and The Official Moot Referee
Willms & Shier Environmental Lawyers LLP
Marc McAree is an Environmental Law Specialist, Certified by the Law Society of Upper Canada. He practices environmental, land use planning and municipal law, and civil litigation. Marc is also a trained mediator. He holds a Masters in Environmental Studies degree. The Canadian Legal Lexpert directory recognizes Marc as a repeatedly recommended leading practitioner in environmental law. Marc has been peer selected for inclusion in the annual edition of
Best Lawyers in Canada
. He is named to
The International Who's Who of Environmental Lawyers 2010
. A civil litigator, Marc has appeared at all levels of Ontario Courts including the Ontario Court of Appeal, and before the Ontario Superior Court of Justice on actions, applications, judicial reviews and appeals. Marc also regularly challenges Ministry of the Environment decisions before Ontario's Environmental Review Tribunal, and appears on environmental related matters before other Tribunals.

Stepan Wood
Associate Professor
Osgoode Hall Law School, York University
Professor Stepan Wood is Editor in Chief of the Osgoode Hall Law Journal, acting coordinator of York University's JD/Master in Environmental Studies joint degree program (the only program of its kind in Canada), former Director of Osgoode Hall Law School's Moot Court Program, and Executive Board member and former Director of the Institute for Research and Innovation in Sustainability. He teaches and conducts research in environmental law, sustainability, corporate social responsibility, voluntary environmental standards, transnational business regulation, and property law. Prior to joining the Osgoode faculty, he graduated from Osgoode as Gold Medalist and clerked for the late Justice John Sopinka of the Supreme Court of Canada, before practising commercial litigation and international arbitration with a leading New York law firm. He is actively involved in the work of the Standards Council of Canada and the International Organization for Standardization in the field of environmental management and sustainability.
top



COMMITTEE MEMBERS





Marie-Ann Bowden

Associate Dean and Professor

College of Law, University of Saskatchewan



Professor Marie-Ann Bowden BA Hons. (Mt Allison), LLB (Queens), LLM (Osgoode Hall) is a former Associate Dean and full professor at the College of Law, University of Saskatchewan, specializing in environmental law. She teaches Environmental Law and Indigenous Peoples Resource Management at the College and is jointly appointed to the newly established School of Environment and Sustainability where she teaches Legal Issues and the Environment to a group of multi-disciplinary graduate students. Her areas of interest and writing include EA and water law.
Professor Bowden is the co-editor of the Journal of environmental Law and Practice which keeps her in touch with legal practitioners and academics across the country. Most recently she completed a book entitled " A Legal Guide to Aboriginal Drinking Water: a prairie province perspective"(2010).

top





Tony Crossman

Partner, Miller Thomson LLP



Tony Crossman is chair of Miller Thomson's National Environmental Law Group, with his practice focus being on Western Canada and the Yukon. Tony advises on all aspects of environmental law – from corporate compliance and due diligence through to civil and criminal / regulatory matters. He is listed as one Canada's leading environmental lawyers and is a past chair of the Canadian Bar Association's National Environment, Energy and Resources Law section.

In his practice, Tony advises about the maze of environmental regulations. He gets involved with permit applications, when orders are issued (or threatened to be issued) by environmental regulators and represents those involved in litigation involving environmental issues.

His environmental work covers many sectors of the economy including energy, real estate, municipal, mining, pulp and paper, forestry and transportation.

Tony is the author of the BC & Yukon chapters of Canadian Environmental Law (Lexis Nexis), the BC chapter of The Law of Climate Change in Canada, a contributor to the BC Contaminated Sites Handbook, and Halsbury's Laws of Canada.

top





Meinhard Doelle

Associate Professor of Law

Schulich School of Law, Dalhousie University



Professor Doelle, BSc (Chemistry), LLB (Dal), LLM (Osgoode Hall), JSD (Dal), is an Associate Professor at Dalhousie University/s Schulich School of Law, specializing in environmental law. He teaches Environmental Law, Climate Change Law, and Energy Law, and currently serves as the Associate Director of the Marine and Environmental Law Institute.

Professor Doelle has written on a variety of environmental law topics, including climate change, invasive species, environmental assessments, and public participation in environmental decision making. His most recent books are entitled Environmental Law: Cases and Materials (2009), The Federal Environmental Assessment Process, a Guide and Critique" (2008), and "From Hot Air to Action: Climate Change, Compliance and the Future of International Environmental Law" (2005).

top




Sean Foreman

Partner, Wickwire Holm



Sean graduated in 1995 from the University of Waterloo with a Bachelor of Environmental Studies (B.E.S.) and from Dalhousie Law School in 1998 with his LLB and a Certificate of Specialization in Environmental Law. Sean is a Partner and Chair of the Environment, Energy & Resources practice group at Wickwire Holm in Halifax, Nova Scotia. Sean is Past-Chair of the CBA National Environmental Energy & Resources Law Section and the Nova Scotia Branch Section. He is the Past-Treasurer of the Clean Nova Scotia Foundation and Past-Chair of the Environment Committee of the Canadian Manufacturers & Exporters (CME) Nova Scotia. He has lectured in the area of environmental law at various conferences and co-authors articles for the Environmental Policy & Law (EPAL) newsletter. Since 2000, he has lectured as an adjunct faculty member at Dalhousie Schulich School of Law and now teaches Business & Environmental Law. Sean received the inaugural Zoe Odei Young Lawyers' Award from the CBA (Nova Scotia) in 2003, and one of three national 'Outstanding Young Canadian' Vanier Awards in September 2005 for Leadership and Community Service. Most recently Sean was recipient of the 2007 Dalhousie University 'Outstanding Young Alumnus of the Year' Award.

top




Heather McLeod-Kilmurray

Associate Professor, Faculty of Law

University of Ottawa



Dr. Heather McLeod-Kilmurray is an Associate Professor in the Environmental Law Group at the Faculty of Law, University of Ottawa. She is also Director of the University of Ottawa Centre for Environmental Law and Global Sustainability. Her research deals with environmental law, environmental ethics and legal process. She has written on GMOs, from the perspectives of both class action litigation and ecofeminism; the relationship between science and courts; the tort of Toxic Battery (with Prof. Lynda Collins); and is a co-editor of Climate Law and Developing Countries (Edward Elgar) with Professors LeBouthillier, Wood and Richardson. She teaches Environmental Law, Climate Change and Legal Change, Torts, Legal Writing, and Administrative Law.


top



Ramani Nadarajah

Counsel, Canadian Environmental Law Association




Ramani Nadarajah is counsel with the Canadian Environmental Law Association (CELA). She holds an LL.B. (1987) and an LL.M. (2007) from Osgoode Hall Law School. Prior to joining CELA in 1994, Ramani was a prosecutor with the Ontario Ministry of Environment. She has appeared before the courts and administrative tribunals on cases involving contaminated sites, waste, air pollution, pesticides, water-takings and environmental land use planning. She was co-counsel for five hundred residents at both phases of the Walkerton Inquiry.

Ramani has served on federal and provincial government advisory bodies on a range of issues including environmental penalties, brownfields and modernizing environmental approvals. Ramani is a co-editor of Carswell's Canadian Environmental Law Reports and has published articles in law journals on environmental law and policy issues, with a focus on regulatory compliance and enforcement.

top





Chris Tollefson

Professor of Law & Executive Director, Environmental Law Centre

Faculty of Law, University of Victoria




Chris Tollefson B.A. (Queen's) 1982, LL.B. (UVic) 1985, LL.M. (Osgoode Hall) 1993, called to the Bar of British Columbia in 1987.

Born in Saskatchewan and raised on the Prairies and Ontario, Professor Tollefson did his LLB at UVic and has spent most of his professional career on the West Coast. After law school he was a law clerk to Mr. Justice Lambert of the B.C. Court of Appeal before pursuing a litigation practice in Vancouver for several years that focussed on criminal defence and Charter litigation. A practicing member of the B.C. Bar, he has appeared as counsel on cases in the BC Supreme Court and Court of Appeal, and in the Supreme Court of Canada.

Since joining the UVic Law Faculty in 1991, Professor Tollefson's work has been published in Canadian , American and European law journals and periodicals. His book credits include Environmental Law: Cases and Materials (Carswell, 2009); Setting the Standard: Certification, Governance and the Forest Stewardship Council (UBC Press, 2008); cleanair.ca: a citizen's action guide (2000); and The Wealth of Forests: Markets, Regulation and Sustainable Forestry (1998). His current research interests include citizen engagement on trade and environmental issues, the nexus between indigenous rights and environmental protection, water pollution and coastal zone management issues, and forest certification.

Professor Tollefson is a co-founder of the UVic Environmental Law Centre and is its founding Executive Director, a position in which he has served pro bono from 1996 to date. His duties include overseeing operations of the UVic Law's nationally acclaimed public interest environmental law clinical program.

He was a member of Canada 's National Advisory Committee under the NAFTA environmental side agreement (2001-2006), sat on the the Academic Advisory Committee to the Deputy Minister of International Trade (2002-2004) and has chaired the B.C. Community Forests Advisory Committee (2005-2007). Currently, he is a fellow of LEAD Int'l. (Leadership through Environment and Development); he is also a Director of the Ecojustice Legal Defence Fund having served as its Chair and President from 1997-2001. He was promoted to Full Professor in 2007.